THE STORY BEHIND DEL CIELO BREWING CO.
The month of May marks the 2nd Anniversary since Del Cielo Brewing Co. opened its doors. We would have liked to get together and celebrate with our community who has supported us from the start, but the party will have to wait… In the meantime, we figured this would be a good time to share more about us and how we became part of the Downtown Martinez community.
Del Cielo Brewing Co. was the culmination of years of exploration and experimentation in beer that led Luis Castro and Cielomar Cuevas to open the micro brewery in May of 2018 in the beautiful city of Martinez. Taking what they had learned from the US craft beer scene and combining that with their heritages they created an atmosphere that expresses their interpretation of craft beer.
Their journey began in Cleveland, Ohio in 2007. Luis was doing his MBA while Cielomar was just out of college at her first job as a graphic designer. The two were introduced by a friend in common, dance salsa all night and the rest is history… 
Luis, who had grown up drinking the beer that was available in Colombia (most of them commercial lagers and pilsners), had recently discovered what craft beer was when he had his first Dogfish Head 90 Minute IPA. Excited by the new flavors in beer that he had never experienced, he shared his new passion with Cielomar. Date nights were often at breweries or taprooms where the two would try as many beers and styles as they could. As their relationship grew, so did their passion for craft beer. Soon they were jumping in the car for hours long road trips to visit far away breweries. 
Every stop they made they would take notes on everything from the decor, atmosphere, and glassware to the beer styles and tasting notes. Although they thought this was just for fun, they had actually planted a seed that would end up growing very quickly. 
Ribbon Cutting 2018 | Photo Credit: Mike Biggs
After four years of horrible winters for a Colombian and a Puerto Rican in Ohio, they decided to move to California where their love for craft beer grew exponentially.  The discovery of new breweries and beers continued to foster the passion around beer and Luis' friends noticed this. On one of his Birthdays he got a gift certificate from MoreBeer from one of his friends, you will say he was very excited about it, but at the same time he was afraid of the mess and having to clean-up after brewing. After 2 or 3 months he decided to use his gift certificate and purchase the most basic homebrew kit. 
Luis watched the same youtube video more than 20 times, they got ready and brewed their first batch. It would be great to say that this first batch was a wild success, but anyone who has ever brewed at home knows that there is no way that happened. The brew was a bit of a disaster, it took almost two hours to get to boil and another hour to cool down, but the result was their first batch of beer. 
Luis Homebrewing with Del Cielo Pilot System| Photo Credit: Mike Biggs
Needless to say, he kept going and going. From brewing on his kitchen stove to upgrading to propane burners in his garage, the beer kept flowing. Luis joined a local homebrew club, Diablo Order of Zymiracle Enthusiasts (DOZE) where he made dozens of new beer friends and was able to learn more about brewing. Every new batch he brewed they would have a release party at their house! Although these parties started off modest, they would eventually get so big that on one December night their house was so packed with people they had to open every window and turn on the air conditioning! The parties were one of the most important experiences for Luis and Cielomar. Opening up their home and entertaining friends and family was an important part of their upbringing. The phrase "mi casa es tu casa" was something they took to heart and became the number one core belief for their business.
The release parties were a time to entertain, however there was one mandatory rule. If you wanted to drink the beer you would have to fill out a tasting note sheet. Luis took the feedback seriously and utilized it to improve his beers. This led to him entering (and winning) a lot of homebrew competitions and after several years of this it was clear that he needed to think bigger. Over an 18 month period the couple developed a business plan, scouted dozens of locations, and started a crowdfunding site to get their business going. When they found the empty building in the charming downtown, they knew they had found their brewery.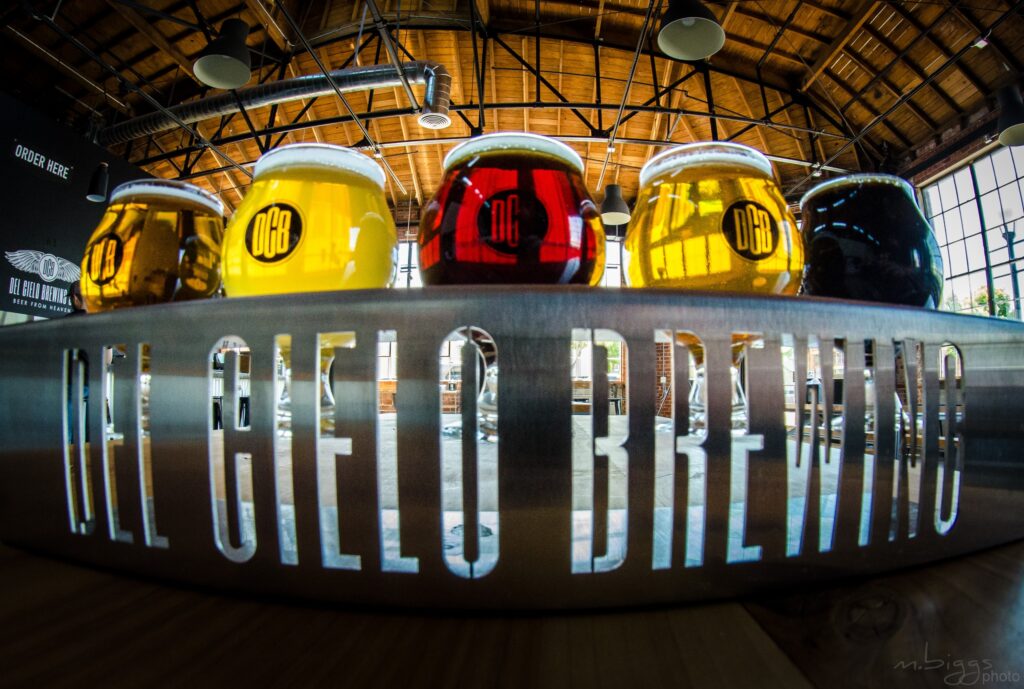 Del Cielo Brewing Co. sits on the corner of Escobar St. and Estudillo St. in a brick warehouse building that was built in the early 20th century. From the outside it appears to be a commercial building, but the second you walk inside it's designed to make you feel at home. Inside can be found all the elements that make up their family, from the fermenters that make the beer, to the taproom where it is served, to each and every employee. Every time a customer walks into their building they want that person to feel like they are walking into their home. The tables at Del Cielo are benches to encourage community among strangers; the space has been thoughtfully decorated and furnished to evoke a feeling of warmth and welcoming; the staff are asked to treat each customer as they would a guest in their home.
Del Cielo Brewing Taproom, Downtown Martinez | Photo Credit: Mike Biggs
Del Cielo core beliefs are rooted in the experiences that Luis and Cielomar have had in their lives and they wish to share with their community.
We believe in "Mi casa es tu casa"
We believe our beer tastes like it comes from heaven
We believe in inspiring curiosity
We believe beer tastes better together
Each of these can be seen in every beer we make, where we serve it, how we interact with the community, and why we are passionate about what we do. We hope to inspire the same curiosity, passion, and joy inside each of you the way that it was for Luis and Cielomar. Maybe the next brewmaster is out there reading this or drinking one of our beers right now while planning how they want to change craft beer. Who knows? But, we have a mission and that is, "With every pour, helping you explore the world of beer" and we hope we can do that for you. 
Salud! We look forward to serving you at the taproom soon.
Del Cielo Team